Table of Content
• Active Rooms (ZOOM)
• Presenting and Listening
• Final Recommendations
• Guidelines for Session Chairs
• Testing channel and time slots
Active Rooms (ZOOM)
During the conference there will be three types of active rooms. The first two rooms are accessible with login in the SLERD 2020 site restricted page, for conference participants:
         Social Lounge: where the coffee breaks and the conference dinner will take place, always open for parallel socialization.
         Conference Room: where the keynotes, paper sessions and the open/closing ceremonies will take place.
        Special events: to access open round table and connection session rooms one should first register, links and passwords will be sent immediately after to you by e-mail. ASLERD Member Room is open only to ASLERD members.
Presenting and listening
Listening
Enter the virtual room by following the corresponding link 

If you have Zoom installed, select "open Zoom" in the prompt (if not, an option should appear to access the meeting in the browser).

If you've never used Zoom, it will prompt you to add your name before entering the session

It will ask you if you want to join with audio and with which microphone, this should be enabled.

In the room you can enable or mute your microphone (if you are listening, please mute your microphone – the session chair will unmute your microphone when needed, or when it's your time to share your presentation.). These options are available in the bottom left corner of Zoom's interface.

Presenting
Following the aforementioned steps 1-5:
Unmute your microphone

Select "Share Screen" option in the bottom menu

A window selection screen will pop-up enabling you to select which screen you want to share.

Note:

You should have the presentation open and in full-screen/presentation mode beforehand

.

    If your presentation has any sounds attached, check the box on the bottom left "Share computer sound"

Click in the "Share" button in the bottom right corner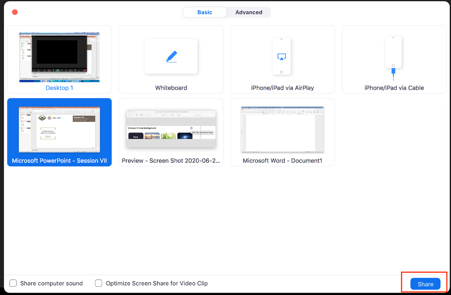 Note: If during your presentation you wish to open external links (i.e. youtube video), you should manage which screen you are sharing in the upper menu, selecting the option "New Share". If this is the case we strongly suggest that you test your presentation – please refer to the next section: Testing Chanel for more details.

11.  When you finish your presentation, please stop the share so that the session chair can have a better view of the participants wishing to pose questions.
Final Recommendations
We recommend installing Zoom: https://zoom.us/download
If you are only attending you could also install the Zoom mobile app (this could also be helpfull for social gatherings as coffee breaks and the convivial dinner): iOS Android
Be present at least 15 minutes before in the "Conference Room" and test before the session that all slides and video are working. We encourage to have the video on so that everyone gets to know the presenter, enabling a sense of membership.
 Provide your Zoom associated email – this would help with the initial setup.
Presenters:
 [Important] Backup video: We highly encourage you to submit a backup video with a length similar to the allocated time of your presentation, just in case something goes wrong. Otherwise the conference presentation slot will be lost.
Recommendation: You could record yourself in Zoom (in your private zoom room, under "Meetings" tab and clicking start – this is your private room), sharing your presentation as you would do live during the conference – the final result would be very similar to the live presentation.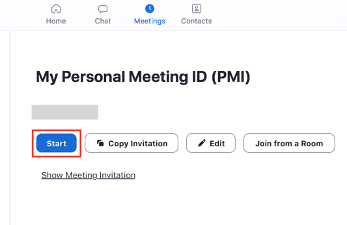 Please send videos in mp4 format and do not extend your allocated presentation time
 You could also send us a copy of the slides. 
These materials should be sent by Sunday June 28th to … – filename conventions #[Paper ID].ppt/.pdf and .mp4.
Guidelines for Session Chairs
A "background image" for each of the session papers has been produced, and we kindly ask you to set up your zoom background before introducing each paper. 
Setting up a virtual background in Zoom
Download all the images and backup video presentations of your corresponding session (

here

) into your computer

In the Conference Room, click in the video menu (next to the mute/unmute button) and select "Choose virtual background"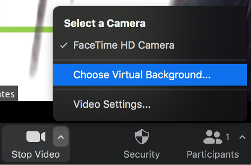 3. In this new window choose to add new background image (plus symbol) and select the image from its location in your machine

4. You can now add all of the needed images for the session as it will be easier and quicker to change between them (you only need to do this once, if you test them beforehand all images will be available for selection during your session).
Recommendation: Find a blank wall to help with the setup, and test all images. If this is not possible, a backup PowerPoint presentation has been prepared and you should share it when introducing each paper, stopping it afterwards, enabling the presenter to share theirs. Test each background and where to position yourself before your session.
Sharing a presentation in Zoom (plan B)
Select "Share Screen" option in the bottom menu

A window selection screen will pop-up enabling you to select which screen you want to share.

Note:

You should have the presentation open beforehand

.

Click in the "Share" button in the bottom right corner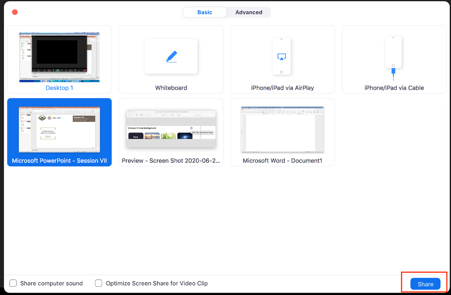 Taking audience questions
 Depending on the nature of the paper, there's a time set for audience questions (2 to 5 minutes). You should be able to view the audience video in order to identify participants whom wish to speak (by raising their hand). Also take a look at the room chat, as some participants may have left pertinent questions. The Session Chair will moderate the question-answer moment and will manage a protocol to choose the participants that will pose the questions.
As a Session Chair you can also suggest someone to help you moderate the questioning phase. Let the organization know of your decision so we can promptly attribute a co-host permission to the chosen person. 
Note: when opening the session for questions the recording will stop, please let the participants know this.
Room chat
The link for the room chat is located in the bottom center of the screen, next to the share screen option, clicking it opens and closes the chat.

Mute/Unmute participants
In the participants button (left to the chat button) you can access a list of all participants and select whether to mute or unmute each one, or at the bottom of the list you'll find the "unmute all" button to unmute all attendees – please consider the best strategy for your session.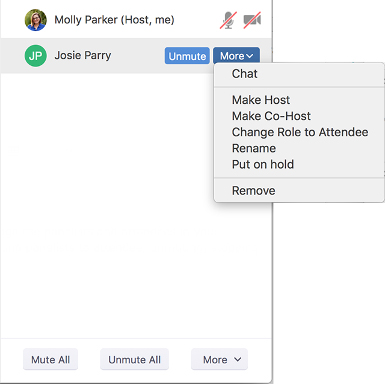 Testing Channel and time slots
 If you wish to test the Zoom platform and your presentation, there are four timeslots scheduled for testing purposes:
25th of June: 10h to 11h (CET) and from 15h to 16h (CET)
26th of June: 10h to 11h (CET) and from 15h to 16h (CET)
Within these timeslots you can freely enter the "Conference Room" link announced in the SLERD 2020 restricted participant's page. If any test is taking place, please wait for your turn. Leave a message in the chat box with your intention.